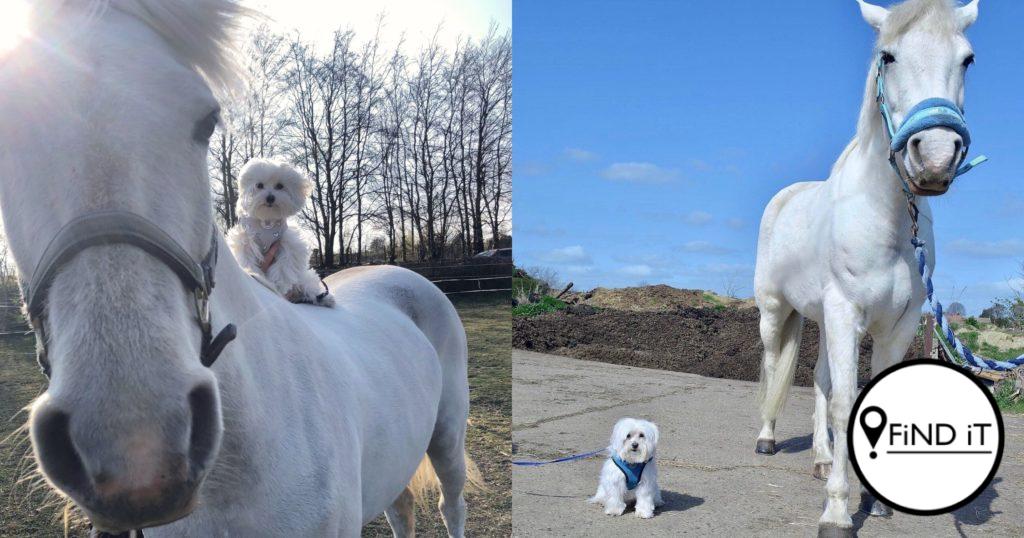 This horse and dog duo have struck up an unlikely friendship – adorable pooch rides on his horse best pal.
Kerri Westaway, from Suffolk, is the proud owner of Teddy, the seven-year-old Maltese, and Victoria, the 10-year-old Irish Connemara horse, who have become such good pals that Victoria even lets Teddy sit on her back and enjoy a ride.
The adorable pair have formed a close bond over the years, and tiny Teddy isn't phased by the size of his huge best bud.
Kerri says that Teddy, who is a poser in front of the camera, is very comfortable when he is sitting on top of the family's horse like a jockey.
She added: "On one of Teddys regular visits to see Victoria I decided to see if he would sit on her back for an Instagram photo.
Pooch rides his horse best friend comfortably
"He sat on her back and seemed very comfortable.
"Victoria didn't mind at all. She is a very laid back horse.
"She just stood still and let it happen. My daughter stood behind just in case Teddy fell.
"Teddy is happy to sit on Victoria's back for as long as we like but we always have someone ready to grab him if necessary."
The furry friends first met when Teddy came to see Victoria on the day she arrived at the yard she is kept at.
Kerri recalls that it was instantly obvious that they liked each other and were curious to get closer.
She added: "Victoria gets excited when she sees him and often nudges him on his head if I l lift him up to see her.
"They often pose for selfies together and they love to go on walks together.
"Teddy also likes to help with Victoria's feed time. He is so confident around her unlike my other dogs as they are much warier of her size.
Also read: The sane girls guide to seeing a counsellor – Part 2